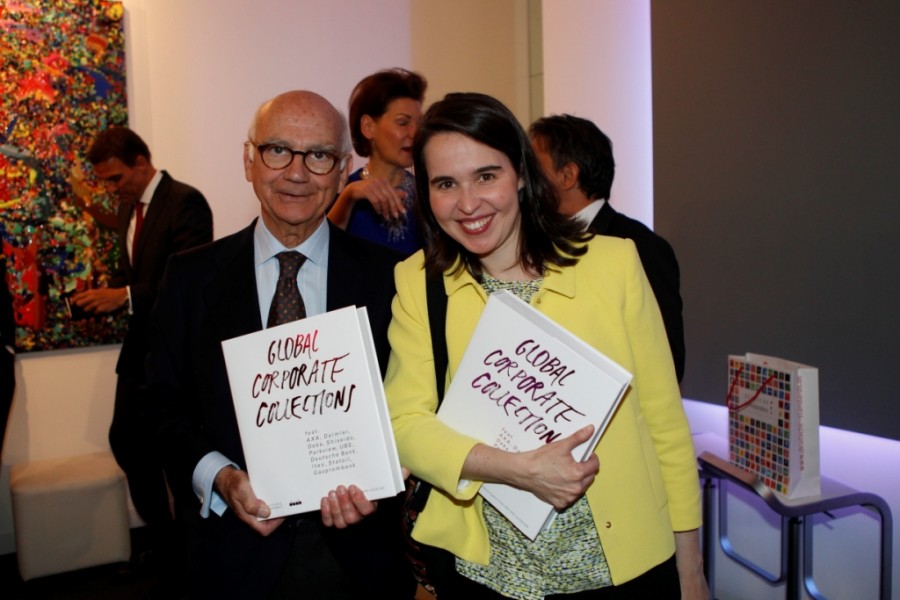 Pedro Enciso, Vicepresident of Berge y Cia. and María Aguilera, Curator of Colección Bergé at the launch of the book Global Corporate Collection
The Bergé Collection at Art Basel for the launch of the book Global Corporate Collections
A book featuring the top 100 corporate collections in the world
Last week, Art Basel hosted the official launch of the book Global Corporate Collections, over 700 pages devoted to the world's 100 finest corporate collections from more than 25 countries.
The Bergé Collection was selected by an advisory board of qualified art experts, convened by the Deutsche Standards publishing house specifically for this project.
The book offers a distinguished international vision of companies that own collections and have made art part of their corporate social responsibility. It examines the world of corporate collecting from very different perspectives, exploring the unique, incomparable experience offered by works of art in modern-day companies.
This ambitious project is supported by AXA ART, Art Finance (Gazprombank Group) and Sotheby's. The book is edited by Friedrich Conzen (Managing Director, Werkladen Conzen Kunst Service, Düsseldorf), Max Hollein (Director, Schirn Kunsthalle, Frankfurt am Main) and Olaf Salié (Managing Director and Editor-in-Chief, Deutsche Standards, Cologne).

www.deutsche-standards.de/manufakturen_1/
www.daab-media.com/Books/Daab_Books/GLOBAL_CORPORATE_COLLECTIONS.html